Vauxhall Cross, Nine Elms and Battersea
2015
This was the year when the full impact of the Nine Elms developments became clear to all. The planners, developers and architects clearly took their inspiration from post-war new brutalist planners and architects who had won prizes for high density public housing - in which they themselves would of course never choose to live. One prominent example - 'an icon of its time' - was Park Hill in Sheffield:
Another source of inspiration - quite nearby in London - may have been the Aylesbury Estate.
This is the resultant developer's vision for the residential blocks that would lie between the railway and Nine Elms Lane.
21st Century brutalist architecture was therefore soon to be found springing up along Nine Elms Lane. Here is the Riverlight development followed by Embassy Gardens.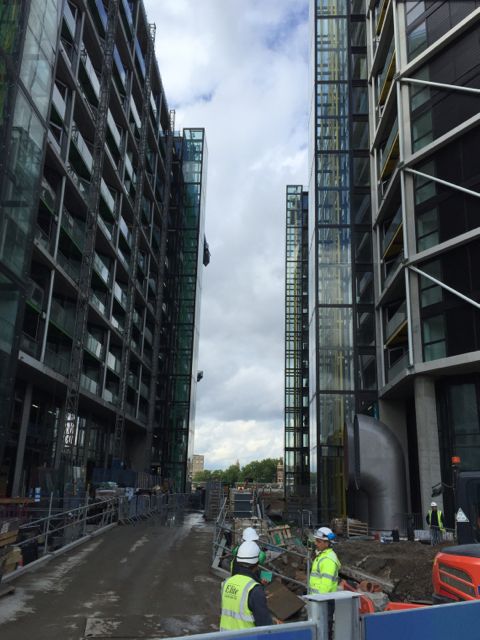 But a different approach was being taken nearer to Vauxhall Cross, where the buildings were going to be a lot higher, but more spaced out. This is a photo taken on Wandsworth Road, near the corner with Wilcox Road. The building in the foreground is Nine Elms Point with the already completed St George Tower in the background and the initial stump of Vauxhall Sky Gardens to the right.
And here, for future comparison purposes, is the view from Ruskin Park, well to the south of Vauxhall.
Finally, here is an aerial view of Nine Elms towards the end of 2015. Down from the top of the picture you can see Battersea Park, the Battersea Power Station, Riverlight, Embassy Gardens, the new US Embassy, and St George Tower/Wharf. On this side of the railway line, from the left, are Nine Elms Point and Vauxhall Sky Gardens (both under construction) and Keybridge House (about to be demolished). Vauxhall Park is in the foreground.
Martin Stanley
68rtsw8@gmail.com