The redevelopment of Vauxhall, Nine Elms and the area around Battersea Power Station has delivered some excellent buildings - and some abominations. All in all, most seem to agree that the planning authorities squandered a wonderful opportunity to develop this large site so close to the centre of London.
Let's start with ...
The Positives
Here is a lovely painting of the power station when it was operating.
The area still looks very pretty when viewed from the river ...
... and at Christmas ...
... especially from one of power station chimneys. This photo was taken as the building opened to the public in late 2022. The cuboid building to the right is the dramatic American Embassy. (Click on it to see a larger version.)
These older photos show that it is hard to argue that this transformation has been anything but positive. These next two photos were taken from around the same spot in 1970 and 2022 respectively. (Click on them to see larger versions.)
And the new US Embassy is pretty smart.
However ...
Too many of the apartments are 'Little Boxes Made of Ticky Tacky.'
This was the first that we saw of the developer's vision for the dense residential blocks that would soon lie east of Nine Elms Lane. The new apartments would be little more than boring boxes, crammed in as densely as possible:- a catastrophic failure to cherish a large, central riverside location.
Perhaps the developers had fond memories of Malvina Reynolds' song? Click on this rectangle to hear it.
The developers' vision turned out to be all too accurate. Here are some photos taken in late 2016 from the railway between Clapham Junction and Vauxhall.
..
And an FT investigation in March 2021 revealed that developer Ballymore's residents (here and elsewhere in London) were already complaining about surging service and insurance costs and about maintenance issues. "Hot water and heating outages are a regular occurrence, as well as issues such as leaking toilets or windows, poor noise insulation, broken doors, windows that are prone to cracking, dilapidated communal grounds and substandard ventilation leading to overheating in the summer, according to numerous documents reviewed by the FT."
Modern Slums/Tenements?
Maybe nobody cared what they looked like like?
To begin with, the new apartments were unlikely to be occupied. It turned out that they were to be marketed mainly in the Far East and mainly as investments - "safe deposit boxes in the sky" - never to be lived in. It has been reported (as of 2020) that around half of central London upmarket properties are sold to overseas buyers, and half of all new sales of such properties remain empty. Vauxhall's cylindrical St George Wharf Tower, completed some years earlier, was found to have only 14 of its 214 apartments on the electoral register.
It was certainly the case that the planners, developers and architects had created an environment quite unlike anything in which they themselves would choose to live.
There were suggestions that, as they were built near the new US Embassy, maybe they were designed to be sold to Americans who might have fond memories of New York tenements, such as on the left below? Or maybe the inspiration was purely British - on the right.
Whatever the inspiration, similar dark and dense housing was accordingly soon to be found springing up all along Nine Elms Lane. Here is the Riverlight development under construction, followed by Embassy Gardens shortly after completion in 2016.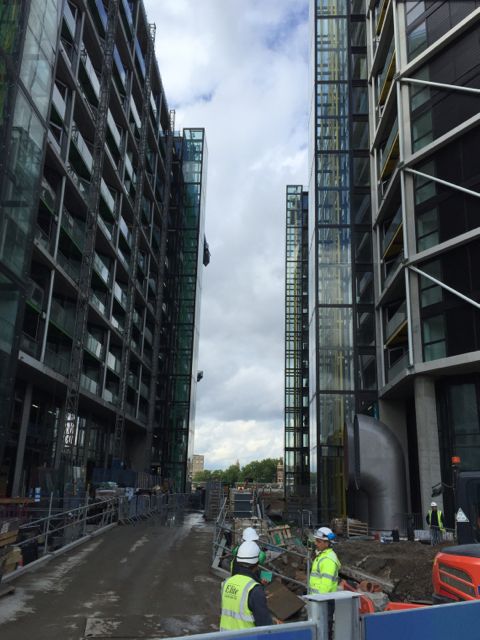 And many of the apartments built around the Battersea Power Station were no better. Philip Downer described them as 'wobbly safe deposit boxes' and commented that their saving grace is that very few people will actually live in them.
By November 2016 there were occasional signs of human life in the otherwise bleak Embassy Gardens environment, although as yet no obvious signs of gardens.
The 'linear garden' had featured prominently in Embassy Gardens promotion as "a new park for London", although care was taken to avoid showing that it was only a few metres wide:
Here is the real thing with the US Embassy in the distance. Central Park it is not!
"Buy to Leave"
It was (very sadly) always expected that many of the new homes would be sold to non-residents who would either let them out or simply hold them vacant in the expectation of reaping large capital gains. Very few would be truly affordable by those earning less than the capital's average wage. No new secondary schools were planned, for instance, and very little other social infrastructure such as doctors' surgeries. 240 of the homes at Battersea Power Station are likely to be marketed for between £25m and £30m each. Oliver Wainwright commented that:
These tycoons' totems are nothing but fortified silos for parking "flight capital", safety deposit boxes stacked high, and clad with stone and glass ... flimsy facades behind which the lights may never be switched on. Mostly sold off-plan in east Asia, these properties are not so much buy-to-let as buy-to-leave [creating] empty swathes of zombie town, their retail units left untenanted, their private cinemas unused.
But some of the new owners did intend – or were tempted - or were forced – to let their properties to tenants, with predictable results.  The Financial Times noted, in May 2017, that ...
'Rents in London's largest residential development area have dropped more than 5 per cent in a year as an influx of new luxury properties floods the market. In the Nine Elms district south of the Thames, multiple developers are building more than 20,000 homes, in addition to existing blocks along the river. The large numbers of flats, many of them bought by buy-to-let investors, has increased competition and pushed down prices for tenants. … A [Brexit-related?] fall in companies moving staff to London has reduced demand for more expensive rental property, said Edward Lewis, director of residential development sales at Savills. "It's quite clear that corporate relocation budgets are being squeezed.' … "You can get a pool, a gym and a concierge and not have to pay for it," said Mr Lewis.  Neal Hudson, director at Residential Analysts, said the trends tapped into a "broader issue across London". "A lot of the new supply we're seeing is targeting the more premium end of the market . . . but there's a limit to how much demand there is at those prices." Richard Donnell, director of research at Hometrack, said: "At the end of the day, landlords are rent-takers not rent-setters and the market is now going to find its level."
Later that month, Bloomberg reported as follows:-
'Investors who bought apartments on the south bank of London's River Thames hoping to flip them for a quick profit face falling values and declining premiums for new homes. An oversupply of new properties in districts stretching from Tower Bridge to Battersea Bridge produced some of the city's biggest annual price declines in March. That included a 16 percent drop in the SW8 postcode area, containing the Nine Elms district and Battersea Power Station, according to preliminary data from the Land Registry. In contrast, values in neighboring SW9 -- encompassing Stockwell and parts of Brixton -- jumped 7 percent.  "I expect values to fall further in the Nine Elms area after a huge amount of supply came -- and is still coming -- at the wrong price," Neal Hudson, founder of research firm Residential Analysts Ltd., said in a telephone interview, "Investors have dried up and the bulk of demand for London homes is now from owner-occupiers who can only afford" to pay 450 pounds per square foot.  The Nine Elms homes are priced between 750 pounds and 1,500 pounds a square foot, he said. The apartments are often sold with facilities including gyms, swimming pools and 24-hour concierge services.'
A Prospect article, also published in 2017, was not impressed by this 'Nowhere Neighbourhood':
'Over and over again I asked analysts and developers: who can afford to live in these glass boxes? Because even if they are being bought by foreigners for investment purposes, they will need to be rented and how many professionals are there in London who can pay the kind of sums that these kind of capital values would require? And, I kept asking, who wants to live in these glass boxes? Because for all the high-end swanky concierge serviced mega-bucks buildings, many of the new blocks are being squeezed for as many units as developers can get permission for. Interestingly, everyone agreed with me that many of the new development flats seemed expensive and mingy and that they themselves wouldn't want to live in them; but no one had a good answer as to who would. ...

It was a winter weekday morning and the gardens were empty. I could see cool climbing shapes for children, but no children. A sign read: "Strictly residents only. Quiet hours: 4pm to 8am. Strictly no pets except for access. Play area hours: 8.30am to 8.30pm April to October, 8.30am to 5.30pm November to March. Children up to 10 years to be accompanied at all times. No access into water features. No ball games."'
2018 opened on two downbeat notes.
First, President Trump refused to visit Nine Elms to open the new US Embassy. He claimed that this was because he disapproved of the decision to sell the lease on the embassy in Grosvenor Square and to build the new mission in an "off location".
Second, the high end property market was reported to be having problems. The Guardian, reporting property data experts Molior London, said that
'More than half of the 1,900 ultra-luxury apartments built in London last year failed to sell, raising fears that the capital will be left with dozens of "posh ghost towers". The swanky flats, complete with private gyms, swimming pools and cinema rooms, are lying empty ... The total number of unsold luxury new-build homes, which are rarely advertised at less than £1m, has now hit a record high of 3,000 units, as the rich overseas investors they were built for turn their backs on the UK due to Brexit uncertainty and the hike in stamp duty on second homes. ...

Henry Pryor, a property buying agent, says the London luxury new-build market is "already overstuffed but we're just building more of them. We're going to have loads of empty and part-built posh ghost towers," he says. "They were built as gambling chips for rich overseas investors, but they are no longer interested in the London casino and have moved on. ...

Steven Herd, founder and chief executive of MyLondonHome, an agency that specialises in new-build homes for investment, says his firm is struggling under the weight of overseas investors who bought in the last couple of years and are desperate to sell. He says hundreds of Asian investors who had bought London developments off-plan in 2015-16 in the hope of making a quick profit by selling apartments on closer to completion have instead lost hundreds of thousands of pounds. "They intended to flip [buy and sell on] the apartments and make big profits, but it hasn't worked out like that, and now they are trying to get out at the smallest possible loss." ... Herd says the Nine Elms development, near the new US embassy in south London, was one of the best redevelopment schemes in Europe but consisted of "the wrong properties that Londoners don't need".
Two years on, in early 2020, the view from the railway hadn't improved, nor was there much sign of anything other than thousands of apartments served by a scattering of restaurants, a supermarket and very little else. Click here to download a 30 second video.
And a Guardian article in January 2021 confirmed 'the depressing reality of what has happened here', 'The primary purpose of the flats as safe deposit boxes [for foreign buyers], not homes, is evident when you look at the floor plans: this is "investment grade space", with tiny rooms that just meet the minimum regulatory allowances.'
Edward Heathcote commented as follows in The Financial Times in June 2021 following the opening of the Sky Pool, a transparent pool spanning two new towers at Nine Elms:-
Nine Elms and its surroundings have become notorious in London as a hyper-capitalist development experiment enabled by a laissez-faire attitude from the local authority, Wandsworth. Billed both as regeneration and housing provision, it is arguably neither of those things, but rather a privatisation of formerly public lands to create an ad hoc pile-up of towers which have little to do with their context or the pressing needs of London. ... it is a clump of ill-conceived towers which each appear to have been designed in complete ignorance of their neighbours. The collection have almost no real relationship to the ground or the city.

The Sky Pool is a glass bauble, a precariously hanging decoration and it should be ignored. Unfortunately it cannot be because it has become such a perfect symbol of a disdain for the urban fabric and an attitude of internalised, privatised luxury, which does nothing for the city except look down on it.
And Deyan Sudjic was equally uncomplimentary, in his article 'March of the phallocracy', written when the Northern Line Extension reached Battersea Power Station in late 2021.
The Chinese developers of One Nine Elms, Guangzhou R&F, were placed in restrictive default in January 2022 causing their UK subsidiary R&F Properties and their contractors Multiplex to lay off a number of subcontractors, though some building work continued. The site was subsequnetly sold and building restarted, though at a slower pace.
The Daily Mail reported in early 2023 that many new residential buildings in Nine Elms had occupancy rates of only 25-30%.